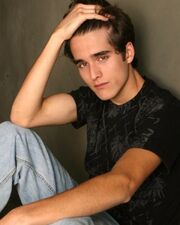 Jonathan Richard "John" Marin is one of the three pain protagonists, a mathleet and a boyfriend of Pat.
John

Name

Jonathan Richard "John" Marin

Age

16-18

Gender

Male

Girlfriend

Pat

Occupation

Mathematician

First Appearance

Back to School

Portrayed by

Daniel Samonas
John's the solver of the Hotel Problem.
Relationships
Edit
John has a romantic relationship with Pat. He's a best friend of Liz, Pat and Anne. He's also a good friend of Cat. His biggest enemy is Lucy.